To access our older seminars: Seminar Series Archive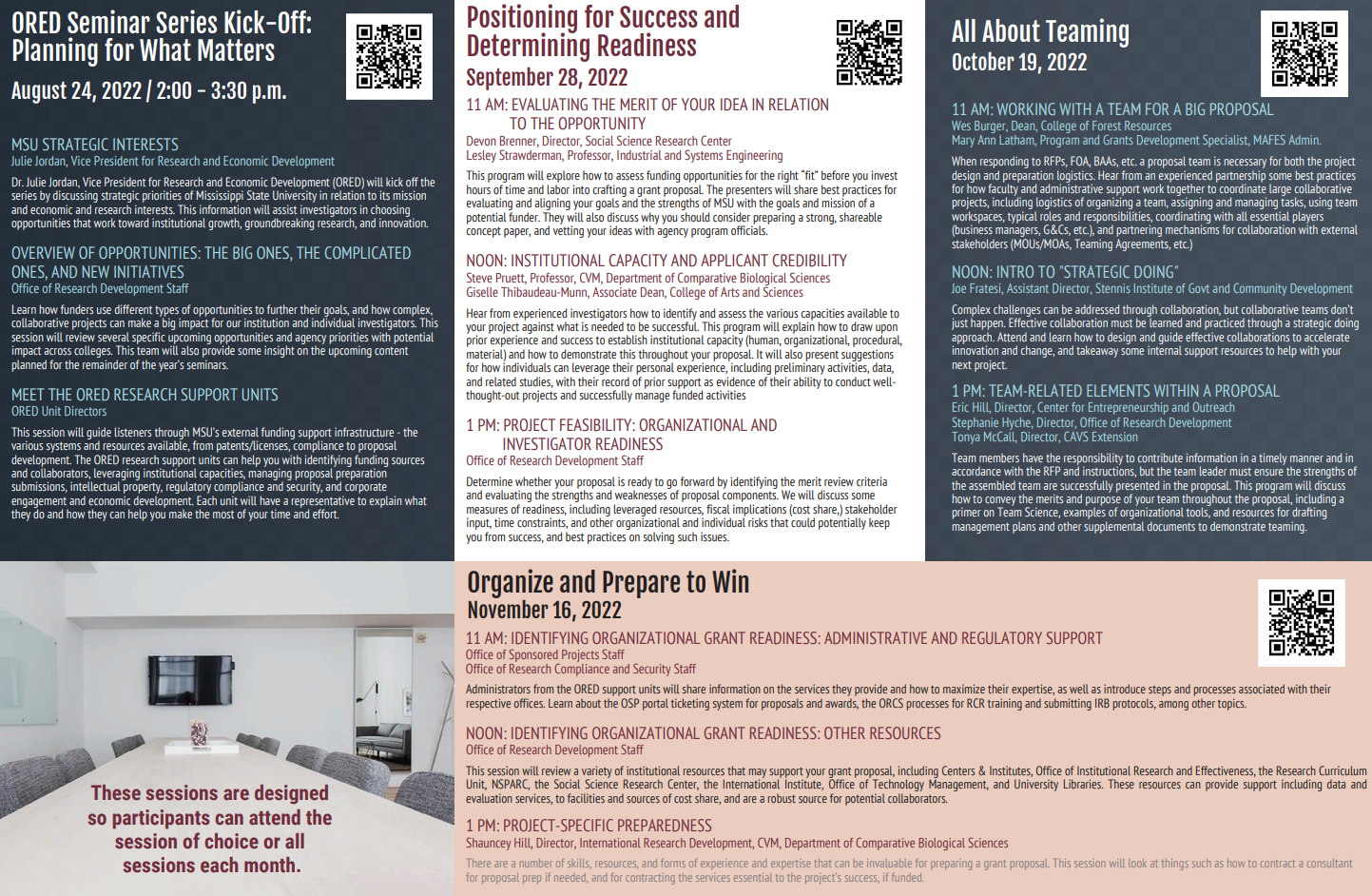 These monthly seminars are designed so that participants can attend one, two or all three session(s).
---
ORED Seminar Series Kick-Off: 
Planning for What Matters
Wednesday August 24, 2022
2:00 - 3:30 p.m.
Fowlkes Auditorium, Colvard Student Union
 
Registration: https://www.tfaforms.com/4992454
(virtual option available while registering)
MSU STRATEGIC INTERESTS
Dr. Julie Jordan, Vice President for Research and Economic Development (ORED) will kick off the series by discussing strategic priorities of Mississippi State University in relation to its mission and economic and research interests. This information will assist investigators in choosing opportunities that work toward institutional growth, groundbreaking research, and innovation.
OVERVIEW OF OPPORTUNITIES: THE BIG ONES, THE COMPLICATED ONES, AND NEW INITIATIVES
Learn how funders use different types of opportunities to further their goals, and how complex, collaborative projects can make a big impact for our institution and individual investigators. This session will review several specific upcoming opportunities and agency priorities with potential impact across colleges. This team will also provide some insight on the upcoming content planned for the remainder of the year's seminars.
MEET THE ORED RESEARCH SUPPORT UNITS
This session will guide listeners through MSU's external funding support infrastructure - the various systems and resources available, from patents/licenses, compliance to proposal development. The ORED research support units can help you with identifying funding sources and collaborators, leveraging institutional capacities, managing proposal preparation submissions, intellectual property, regulatory compliance and security, and corporate engagement and economic development. Each unit will have a representative to explain what they do and how they can help you make the most of your time and effort
---
Positioning for Success and Determining Readiness
Wednesday, September 28, 2022 
Fowlkes Auditorium, Colvard Student Union
Registration: https://www.tfaforms.com/4992140
(virtual option available while registering)
11 AM: EVALUATING THE MERIT OF YOUR IDEA IN RELATION TO THE OPPORTUNITY
This program will explore how to assess funding opportunities for the right "fit" before you invest hours of time and labor into crafting a grant proposal. The presenters will share best practices for evaluating and aligning your goals and the strengths of MSU with the goals and mission of a potential funder. They will also discuss why you should consider preparing a strong, shareable concept paper, and vetting your ideas with agency program officials.
NOON: INSTITUTIONAL CAPACITY AND APPLICANT CREDIBILITY
Hear from experienced investigators how to identify and assess the various capacities available to your project against what is needed to be successful. This program will explain how to draw upon prior experience and success to establish institutional capacity (human, organizational, procedural, material) and how to demonstrate this throughout your proposal. It will also present suggestions for how individuals can leverage their personal experience, including preliminary activities, data, 
and related studies, with their record of prior support as evidence of their ability to conduct well thought-out projects and successfully manage funded activities.
1 PM: PROJECT FEASIBILITY: ORGANIZATIONAL AND  INVESTIGATOR READINESS
Determine whether your proposal is ready to go forward by identifying the merit review criteria and evaluating the strengths and weaknesses of proposal components. We will discuss some measures of readiness, including leveraged resources, fiscal implications (cost share,) stakeholder input, time constraints, and other organizational and individual risks that could potentially keep you from success, and best practices on solving such issues
---
All About Teaming
Wednesday, October 19, 2022
Research Park, 301 Building
 
Registration: https://www.tfaforms.com/4992449
(virtual option available while registering)
Responsible Conduct for Research credit will be given for these sessions.
11 AM: WORKING WITH A TEAM FOR A BIG PROPOSAL
When responding to RFPs, FOA, BAAs, etc. a proposal team is necessary for both the project design and preparation logistics. Hear from an experienced partnership some best practices for how faculty and administrative support work together to coordinate large collaborative projects, including logistics of organizing a team, assigning and managing tasks, using team workspaces, typical roles and responsibilities, coordinating with all essential players (business managers, G&Cs, etc.), and partnering mechanisms for collaboration with external stakeholders (MOUs/MOAs, Teaming Agreements, etc.)
 
NOON: INTRO TO "STRATEGIC DOING"
Complex challenges can be addressed through collaboration, but collaborative teams don't just happen. Effective collaboration must be learned and practiced through a strategic doing approach. Attend and learn how to design and guide effective collaborations to accelerate innovation and change, and takeaway some internal support resources to help with your next project.
 
1 PM: TEAM-RELATED ELEMENTS WITHIN A PROPOSAL
Team members have the responsibility to contribute information in a timely manner and in accordance with the RFP and instructions, but the team leader must ensure the strengths of the assembled team are successfully presented in the proposal. This program will discuss how to convey the merits and purpose of your team throughout the proposal, including a primer on Team Science, examples of organizational tools, and resources for drafting management plans and other supplemental documents to demonstrate teaming.  
---
Organize and Prepare to Win
Wednesday, November 16, 2022
Research Park, 301 Building
 
Registration: https://www.tfaforms.com/4992451
(virtual option available while registering)
11 AM: IDENTIFYING ORGANIZATIONAL GRANT READINESS: ADMINISTRATIVE AND REGULATORY SUPPORT
Administrators from the ORED support units will share information on the services they provide and how to maximize their expertise, as well as introduce steps and processes associated with their respective offices. Learn about the OSP portal ticketing system for proposals and awards, the ORCS processes for RCR training and submitting IRB protocols, among other topics. 
 
NOON: IDENTIFYING ORGANIZATIONAL GRANT READINESS: OTHER RESOURCES
This session will review a variety of institutional resources that may support your grant proposal, including Centers & Institutes, Office of Institutional Research and Effectiveness, the Research Curriculum Unit, NSPARC, the Social Science Research Center, the International Institute, Office of Technology Management, and University Libraries. These resources can provide support including data and evaluation services, to facilities and sources of cost share, and are a robust source for potential collaborators.  
 
1 PM: PROJECT-SPECIFIC PREPAREDNESS
There are a number of skills, resources, and forms of experience and expertise that can be invaluable for preparing a grant proposal. This session will look at things such as how to contract a consultant for proposal prep if needed, and for contracting the services essential to the project's success, if funded. 
---